---
Get to know Sunshine State Vintage Motocross Club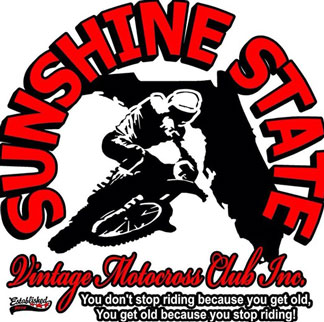 by Tracy Beck, Florida MOTO News
November 25, 2014
Florida MOTO News was recently made aware of another exciting series of motocross events in Florida, and wants to spread the word to help folks get to know Sunshine State Vintage Motocross Club. Read on to learn what this new club has to offer the motocross community, and how you can get involved!
The Sunshine State Vintage Motocross Club, Inc. is a non-profit organization promoting vintage motocross in the state of Florida. The club's Executive Director, Bill Petitt, is a lifelong motocross rider who has worked with the club's board members to build a great club and schedule an exciting series of races. The Sunshine State Vintage Motocross Club 2014-2015 racing schedule includes thirteen races at seven motocross tracks throughout Florida, and one track in south Georgia. Backed by a large number of vintage and modern riders, the club has gained support from a number of sponsors, and continues to grow.
Sunshine State Vintage Motocross Club (SSVMX) offers competitive racing for all bikes, ages, and skill levels giving riders a chance to enjoy motocross racing in a fun-loving, family-oriented atmosphere. You will quickly get a taste of the fun-loving atmosphere just by reading the club's creative bike class names! This truly is a motocross club founded "For the riders, by the riders." To see all the SSVMX Bike Classes: CLICK HERE.
The 2014-2015 season will surely be a good one, as the club continues to grow and more people realize that this "vintage" race club welcomes everyone to join them in having fun racing motocross. If you are interested in joining in on the fun, or becoming a sponsor of the club, please visit the club's membership page HERE. You can also join SSVMX on Facebook to view race results, photos, and more. Be sure to get out to some of these great SSVMX events real soon!
Florida MOTO News plans to provide race coverage of a SSVMX event in the near future, so keep a look out for the Florida MOTO News "NEXT STOP..." announcements. "NEXT STOP..." announcements can be found on both the Florida MOTO News website, and on Facebook! See ya at a race soon!

---
Something to Say? Something to Sell?
Purchase an AD, and put it HERE!
Contact flmotonews@yahoo.com or call 386-878-9818 for more information.
---