---
High-Flyin' Fun at Pax Trax Mx Park!
2014 FL/GA Fall Championship, Round #2
Pax Trax MX Park
Story by Tracy Beck
Photos by Tracy Beck
Bostwick Creek, FL October 19, 2014
CLICK PHOTOS TO ENLARGE
FGSC racers arrived at round #2 of the 2014 FL/GA Fall Championship ready for some high-flyin' fun at Pax Trax Mx Park! The 50cc riders and their parents were excited to attend the Pax Trax round, as the Pax pee-wee track is a rider favorite. The track offers a great opportunity for young riders to safely advance their jumping skills. The 50cc classes were some of the largest the series has seen yet, accounting for more than 50 entries. The 50cc Beginner class was the largest, with 21 entries! The days racing started with the 50cc 4-6 class, and Limay Rivera (COB #818) charged hard and left his competition behind. Rivera rode well, and his 1-1 finshes gave him the overall win in the 50cc 4-6 class. Tyson Longbottom (KTM #21) would take second place in moto 1, ahead of Calen Myers (KTM #73). Myers would best Longbottom in the second moto though, and his 3-2-moto scores would award him second overall.
The large 50cc Beginner class was won by DominicTavolacci (KTM #712), whose 2-1 moto finishes beat the 1-3 moto scores of Marvin Niezabitowski (KTM #223). Calen Myers and Tyson Longbottom would meet to do battle again in the Beginner class, with Myers again finishing ahead and taking home third place overall.
Racing was exciting to watch in the 50cc Open class, with many talented riders charging hard to try to get the win! Racers would charge fast into the corners, battling to see who would take the win. Ryder Gwynn (KTM #5) emerged victorious with 3-1 moto scores. Nathan Jeffery finished in second place overall, with 2-2 scores. Third place overall went to Chase Matott (KTM #57). Matott won the first moto, but a third place second moto finish was not enough to beat out the consistent 2-2 moto scores of Jeffery. The three would battle again in the 50cc 7-9 class, again finishing Gwynn-1, Jeffery-2, Matott-3.
Terranova's Restaurant and Pizzeria was on site, preparing delicious food for riders and spectators. Series sponsors Loudmouth, Beck's Tech, HBD MotoGrafx, The Moto-Stop, and Ruthless were also set up at the race offering rider support. Pax Trax is also a spectator favorite, and stands were full! Spectators were surely treated to great racing and a birds eye view of all the high-flyin' fun!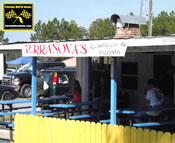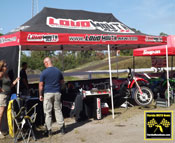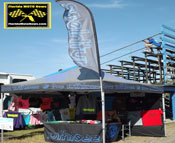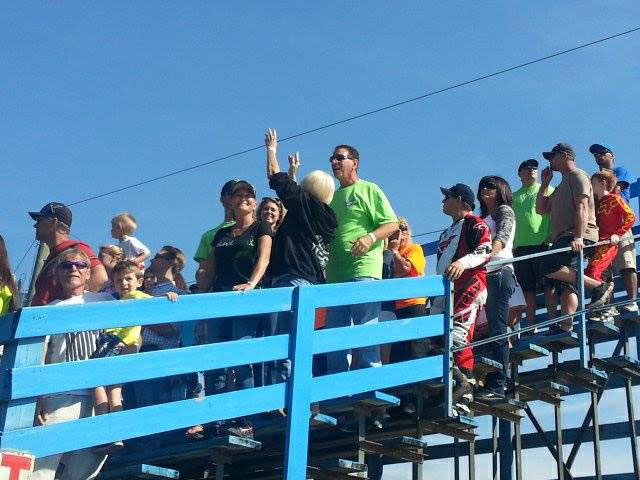 PHOTO CREDIT: Pax Trax PHOTO CREDIT: Pax Trax
Racing on the main track was just as intense as the pee-wee track competition. Close racing and many moto battles ensued from start to finish, as racers worked hard to try to win. With all the fast, close racing, all were glad to have Mark Cassano of Staff Medics, and his crew on the track to provide care in the event of any crash injuries. Riders soared high in the air, showing off their skills and providing quite a show for fans. Beautiful Florida weather and entertaining racing was certainly enjoyed by all at Pax Trax Mx Park.
The next round of the 2014 FL/GA Fall Championship will be held at Hardrock Offroad Park in Ocala, FL on November 2nd. For full race/series results from the 2014 FL/GA Fall Championship, and more information about the FGSC series, visit flgaracing.com!
Be sure to visit the FLMN GALLERY to view the photo coverage of the race too!
RESULTS (TOP 5):
Lites C: 1. Derek Hopkins; 2. N.Jordan Fuguet; 3. Austin Stuart; 4. Danny Diciaccio; 5. Connor Fortune
85cc 12-15: Roberto Burgos; 2. Darek Pixton; 3. Christian Dresser; 4. Payton Nelson; 5. Austin Kembro
85cc 10-11: 1. Rowdy Houston; 2. Nate Carr
+50: 1. Chris Bunnell
+40: 1. James Chludzinski; 2. Steve Nagy; 3. Mark Osteen; 4. Kevin Hahn; 5. Jason Beck
105-250cc 12-15: 1. Dawson Stark; 2. Brett Meade
65cc BEG: 1. Brandon Ma; 2. Rydar Chittum; 3. Nathan Jeffery; 4. Bryce Austin; 5. Ryan Gardner
MX B: 1. Tristan Lane; 2. Brandon Hannon; 3. Mike Bretzel; 4. John Haller; 5. C.j. Harris
MX A: 1. Andrew Marx; 2. Brendan Goldstein
Women: 1. Maegan Boucher; 2. Jessica Jeffery; 3. Tracy Beck; 4. Emily Young
Lites BEG: 1. Ryan Jackson; 2. Michael Wise; 3. Tyler Daugherty; 4. Stephen Pedano; 5. Garrett Willis
Jr Mini 9-13: 1. Christian Dresser; 2. Rowdy Houston; 3. Darek Pixton; 4. Payton Nelson; 5. Austin Kembro
Spr Mini 12-15: 1. Brett Meade; 2. Roberto Burgos; 3. Austin Fryer; 4. Parker Earl
+30: 1. Brendan Goldstein; 2. Chet Sauer; 3. Garrett Cannon; 4. Steve Nagy
16-29: 1. Tristan Lane; 2. Chad Stonier; 3. Andrew Marx; 4. Mike Bretzel; 5. Emily Young
65cc Open: 1. Maddox Spatafore; 2. Donny Smallwood; 3.Jared Cannon; 4. Chase Matott; 5. Ryder Gwynn
B-C Unlimited: 1. Tristan Lane; 2. Brandon Hannon; 3. John Haller
Vet C: 1. Robert Bryntesen; 2. Mark Osteen; 3. Bryon Sheehan; 4. Josh Mays; 5. Kevin Hahn
65cc 7-9: 1. Donny Smallwood; 2. Jared Cannon; 3. Ryder Gwynn; 4. Brandon Ma; 5. Michael Derico
65cc 10-11: Maddox Spatafore
D-C UNLIM: 1. N. Jordan Fuguet; 2. Robert Bryntesen; 3. Connor Fortune; 4. Derek Hopkins; 5. Darrell Love
85cc BEG: 1. Sean Robinson; 2. Parker Earl; 3. Jessica Jeffery; 4. Nate Carr; 5. Gavin Flannigan
Lites B: 1. Chad Stonier; 2. C.j. Harris; 3. John Ogrady
2-Strk Open: 1. Dawson Stark; 2. Austin Stuart; 3. Jordan Potts; 4. Justin Bierle; 5. Dalton Smith
MX BEG: 1. Jeff Perry; 2. Joshua Rosa; 3. Tyler Daugherty; 4. Jason Gens; 5. Scott Wright
MX C: 1. Justin Maloy; 2. Danny Diciaccio; 3. Dakota Durand; 4. Garrett Cannon; 5. Ryan Prentice
50cc 4-6: 1. Limay Rivera; 2. Calen Myers; 3. Tyson Longbottom; 4. Bubba Moody; 5. Seth Dennis
50cc BEG: 1. Dominic Tavolacci; 2. Marvin Niezabitowski; 3. Calen Myers; 4. Tyson Longbottom; 5. Jason Vlossak
50cc Open: 1. Ryder Gwynn; 2. Nathan Jeffery; 3. Chase Matott; 4. Logan Mortberg; 5. Limay Rivera
50cc 7-9: 1. Ryder Gwynn; 2. Nathan Jeffery; 3. Chase Matott; 4. Dominic Tavolacci; 5. Logan Mortberg
---
Something to Say? Something to Sell?
Purchase an AD, and put it HERE!
Contact flmotonews@yahoo.com or call 386-878-9818 for more information.