---
FEATURED RIDERS
FLMN Featured Rider : Max Darling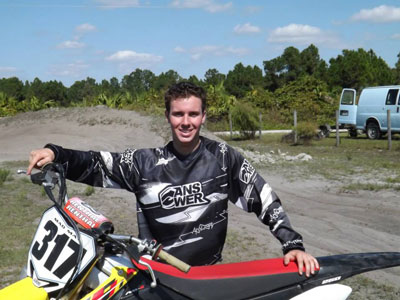 Name: Max Darling 
Number: 317
Age:  18
Hometown:  Green Cove Springs, FL
Class usually raced: 250A
Other classes: 450A, Open Money
Bikes: RMZ 250
How did you get into motocross?   
My dad raced for a living when he was a kid, and I've always wanted to do it. My neighbor brought home a crf 70 one day and they let me ride it. I was completely hooked after that! It wasn't much longer that my dad bought me my first bike!
How long have you been riding?
I've been riding for 5 years.
How long have you been racing? 
I have been racing for 4 years.
What is your favorite track?
I'd have to say it's a tie between WW Ranch and Monster Mountain. Both tracks are amazing!
What do you do for training? 
I ride 2 to 3 times during the week and on the weekends. As far as off the bike training goes, my trainer Ryan puts me through intense workouts in the gym that targets all aspects of the body. We also do long distance runs and bike rides.
How often do you ride?
As much as I can!
What else do you like doing besides motocross? 
I love to ride bikes and hang out with my friends. I also love to play basketball, football, and even baseball. I pretty much love all sports!
Who is your favorite pro rider?
 I'd have to say Ryan Villopoto. His style is so smooth. It never looks like he's using much energy.
Who supports you? / Who are your sponsors? 
First, I want to say thanks to Jason and Tracy at Beck's Tech Suspension Tuning and Motor Work. They've been supporting me from the beginning and I appreciate it a ton! I also want to say thanks to Mike and Tony at MotoConcepts for all the help that they have been giving me. Also, thanks to my trainer Ryan Bourdon, for the many hours of work in the gym. Last, my mom and dad. I couldn't do any of it without those two people!
What are your future goals in motocross?
My future goals in motocross are to become a pro and be a consistent guy in main events as well as being a front runner at the nationals.
What is an interesting fact about you that not many people know?
I love the piano! I always play it and believe it or not; I actually believe that it has helped me with my riding.
What makes you pick motocross over other sports?
Motocross is one of the hardest sports in the world physically and mentally. It takes so much time and effort, and dedication. It's a family effort and when the gate drops, it's all on you. No one else. The reward is so much more than a trophy, plaque, or cash. It means that all of the blood, sweat, tears, and broken bones paid off.
Do you have a personal website, Facebook, or Twitter page you want to let everyone know about?
You can find me on Facebook under Max Darling.
Any additional comments?
To everyone in my corner, thanks again! I couldn't do it without the support!
Click each image below to enlarge:
Max Darling at Bostwick Creek Mx Park. Max Darling at Sand Farms Mx. Max Darling - Cornering practice.
Look at that roost! Max Darling at WW Motocross Park. Flyin' with style!
Photo Credit: Lisa Scarborough Photo Credit: Lisa Scarborough
---
Something to Say? Something to Sell?
Purchase an AD, and put it HERE!
Contact flmotonews@yahoo.com or call 386-878-9818 for more information.
---