---
FEATURED RIDERS
FLMN Featured Rider : Hunter Hawkins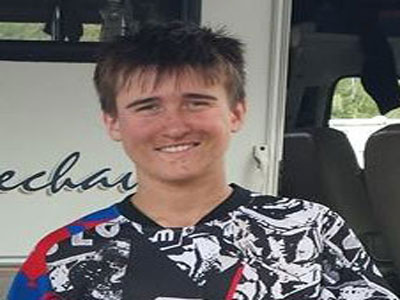 Name: Hunter Hawkins 
Number: 434
Age: 15
Hometown:  Palm Coast, FL
Class usually raced: C and Youth
Other classes:
Bikes: 2014 KTM 250SXF
How did you get into motocross?   
My dad brought me into the sport when I was three, and I loved it. He bought a PW50 and I rode that until I was 4 or 5, then I got a CRF 70. Then it all went from there, haha.
How long have you been riding?
About 12 to 13 years, but all I did before was play ride until I turned 13. Then I started racing.
How long have you been racing? 
About 2 years.
What is your favorite track?
Bostwick Mx.
What do you do for training? 
I go to a trainer named Serratia Gonzalez, and I do a lot of cardio and endurance.
How often do you ride?
I try to ride about 2 times a week, maybe 3.
What else do you like doing besides motocross? 
I just like hanging out with friends and relaxing, because the training takes a lot out of you, haha. But yea, I like to go to the springs and stuff during the summer.
Who is your favorite pro rider?
 Ryan Villopoto.
Who supports you? / Who are your sponsors? 
My Mom and Dad. Jason (Beck's Tech), Renthal, Dunlop, Life Proof, and Live Ruthless.
What are your future goals in motocross?
To try to make it to Loretta Lynns, and win a title at Mini O's this year. But for now I wanna get back from this injury ASAP, and go to race in Michigan this year at the Soaring Eagle Casino.
What is an interesting fact about you that not many people know?
I like country music, haha. It might not seem like it, but I just like it for some reason.
What makes you pick motocross over other sports?
Because you can't beat motocross. It's the hardest sport out there, period. It's also the funnest for sure.
Do you have a personal website, Facebook, or Twitter page you want to let everyone know about?
Yea, my Instagram is @Hunterrr434.
Any additional comments?
Click photos to enlarge:
---
Something to Say? Something to Sell?
Purchase an AD, and put it HERE!
Contact flmotonews@yahoo.com or call 386-878-9818 for more information.
---