---
FEATURED RIDERS
FLMN Featured Rider : Christopher Achatz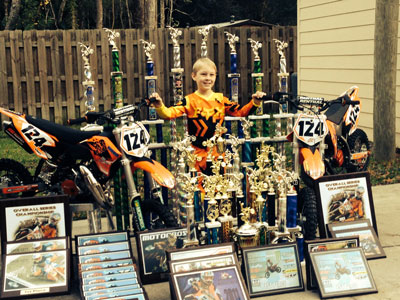 Name: Christopher Achatz 
Number: 124
Age: 9
Hometown:  St. Augustine, FL
Class usually raced: 50cc 7-9
Other classes: 50cc Open
Bikes: KTM 50 SXS, KTM 65
How did you get into motocross?   
My dad used to race. He took me to a supercross race, and I loved it and wanted to start racing.
How long have you been riding?
I got a PW 50 when I was 19 months old.
How long have you been racing? 
Almost three years.
What is your favorite track?
I really like Thundercross.
What do you do for training? 
Mostly my dad trains me. I also do some training with Kyle Goerke.
How often do you ride?
Every time I can! Sometimes in my back yard, and at the track on weekends.
What else do you like doing besides motocross? 
I like to read and play Minecraft.
Who is your favorite pro rider?
 Ryan Dungey.
Who supports you? / Who are your sponsors? 
Beach Blvd. Motorsports, C & C Performance, Live Ruthless, Beck's Tech, Decal Works, Goerke Mx School, and Mom & Dad.
What are your future goals in motocross?
Qualify for Loretta Lynn's. Qualify for a supercross race.
What is an interesting fact about you that not many people know?
I love to read at night. I usually read for at least an hour every night.
What makes you pick motocross over other sports?
I like going fast and jumping. Feeling like I'm flying in the air.
Do you have a personal website, Facebook, or Twitter page you want to let everyone know about?
Instagram = @Achatz124
Any additional comments?
I am really looking forward to racing my 65 in 2014. I am going to miss the 50, but I am going to love the gears and faster bike.
Click each image below to enlarge:
Christopher Achatz at Bostwick Creek Mx Park. Great start for Christopher Achatz at Dade City Mx. Christopher Achatz at Dade City Mx.
---
Something to Say? Something to Sell?
Purchase an AD, and put it HERE!
Contact flmotonews@yahoo.com or call 386-878-9818 for more information.
---