---
FEATURED RIDERS
FLMN Featured Rider : Caiden Frazzini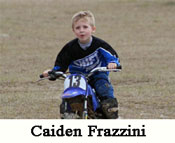 Name: Caiden Frazzini 
Number: 13
Age: 5
Hometown:  Orange City, FL
Class usually raced: 50cc Beg
Other classes: 50cc 4-6
Bikes: 2001 Yamaha PW50, 2002 KTM Pro Junior 50cc
How did you get into motocross?   
My dad got me my first dirt bike when I was 2 years old. It was a Suzuki JR 50 with training wheels. I only used the traing wheels for a little while, and then took them off. My dad sold the JR 50, and then got me a Yamaha PW50 because he thought it would be easier for me to ride. I started riding the PW50, and when I turned 5 years old, I started racing. Now I've got a KTM Pro Junior that I'm going to start racing when the Florida/Georgia Spring Series starts.
How long have you been riding?
Since I was 2 years old.
How long have you been racing? 
1 year.
What is your favorite track?
The pee wee track at the Dirt Farm MX in Georgia.
What do you do for training? 
Go to the track and practice with my friend Calen Myers.
How often do you ride?
As much as my dad will let me.
What else do you like doing besides motocross? 
Anything that has to do with playing outside. I like riding my bicycle and scooter. I like playing in the dirt, digging holes, and playing with cars and trucks.
Who is your favorite pro rider?
 My first answer was "Tristan Lane", but my dad told me he wasn't a pro yet. Second would be Ryan Dungey.
Who supports you? / Who are your sponsors? 
My Mom and Dad. I don't have any sponsors yet, but I'm hoping that "Beck's Tech" will pick me up soon!
What are your future goals in motocross?
To become a pro racer and beat Ryan Villopoto.
What is an interesting fact about you that not many people know?
What makes you pick motocross over other sports?
My dad has been into motorcycles his whole life and wanted me to follow in his footsteps.
Do you have a personal website, Facebook, or Twitter page you want to let everyone know about?
No, I'm too young. Maybe in a few years.
Any additional comments?
Click each image below to enlarge:
---
Something to Say? Something to Sell?
Purchase an AD, and put it HERE!
Contact flmotonews@yahoo.com or call 386-878-9818 for more information.
---