---
I Raced the First Race!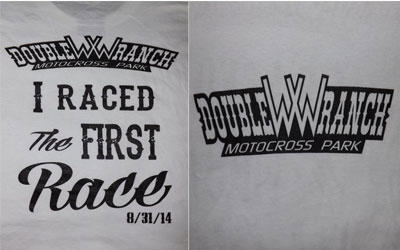 The Race at the Ranch
Double WW Ranch Motocross Park
Story by Tracy Beck
Photos by Tracy Beck
Jacksonville, FL August 31, 2014
CLICK PHOTOS TO ENLARGE
"I Raced the First Race" t-shirts were everywhere you looked. The first 150 riders to sign up to race the August 31 race at WW Motocross received a free t-shirt to commemorate the event. Riders proudly displayed their shirts, showing their enthusiasm for being a part of the first race ever held at Double WW Ranch Motocross Park. The start of racing at this incredible venue is certainly a very important part of Florida's motocross history.
The Jacksonville, Florida track was built on the 587-acre Scarborough family farm, and was designed by Dream Traxx to be a national caliber motocross venue. Although many describe the track as an A/B/Pro level track, its thoughtful design makes it a safe and enjoyable ride for even beginner riders. Track owner Wayne Scarborough Jr., or simply "Junior", has opened the facility to riders on numerous occasions for "ride days", allowing riders to get some ride time on the track before it held its first race. The facility also held a race practice on Saturday, August 30th. The weekend event attracted riders from beginner to pro, and all appeared to have a great time.
The track was well prepared for the race, providing a great track crew, many flaggers, on site ambulance, and even an AMA official to help ensure a safe and organized event. Carol Blackburn, of Motocross of Marion County, was on site offering her help and expertise in running a great motocross race. Mx of Marion County is Florida's oldest operator owned motocross facility, and Carol's many years of experience certainly helped to ensure a great first race for Double WW Ranch Motocross Park. Many vendors were also in attendance, available to provide riders and spectators with food, clothing, gear, parts, mechanical or suspension help, or other race day needs.
Although there had been some concern earlier in the week about rain, weather conditions were sunny and beautiful all weekend. The Women and Plus 50 riders were on the gate for the first race of the day. The riders in the first moto of the day were certainly excited to get to say they were the "very first" race at WW Motocross. The day's race order included 17 races and 32 classes. In the 65cc OPEN 6-11 class, rider Jack Kinney sent his little KTM #100 soaring over the huge WW Mx jumps, and speeding to the win in both motos! KTM #34 rider Aspen Boothby finished in second place, and Rosue Hernandez (KTM #899) finished third. Boothby would go on to take the win in the 65cc 6-9 class later in the day.
One of the largest classes of the day was the Plus 40 class. Live RUTHLESS rider Lee Tatham (HON #641) got the win with 1-1 moto results, followed by Kawasaki rider Steve Dumond who piloted his #211 ride to a second place finish. Sal Ginabreda (YAM #243) took the checkers in third. Tatham would win again later in the day in the Plus 35 class, and Dumond would be victorious in the Plus 45 class. In the 450C class race Justin Maloy (KAW #55) rode well, winning both motos and taking the win ahead of Thorne Pavish (SUZ #108) and Mason Middlebrook (HON #777).
Austin Rue (SUZ #613) showed his speed and style in the 450B class, taking the win ahead of the #66 Yamaha of Logan Murphy and the #55 Kawasaki of Taylor Barnett. Barnett would later take the win in the 250B class, with 1-1 moto scores.
Pro rider Justin Starling (HON #99) was a treat to watch, taking the win in the 250A class. Jordan Hoover (SUZ #372) was the 450A winner, with 1-2 moto finishes. Michael Clarke (SUZ #722) would finish second with 3-1 moto results, and Johnny Wasco (YAM #379) went 2-3 for third overall. Michael Clarke would retaliate later in the day by taking the win, and the money, in the DASH FOR CASH race.
The day of racing included many exciting moto battles, as racers gave their best performances in an attempt to get the win at this historic event. Even with a large number of racers, the event went on smoothly and racing had concluded by late afternoon. Many smiling, happy folks could be found post-race, packing up their pits and discussing their anticipation of the next race event at WW. The next race at Double WW Ranch Motocross Park will be the final round of the 2014 Florida Gold Cup on October 26, 2014. For full race results from The Race at the Ranch, visit http://www.wwmotox.com.
RESULTS (Top 5):
Plus 50: 1.Mike Salber; 2. Mark Shields; 3. Richard Powell; 4. Mitchell Holstein; 5.Norm Westbrook
WOMEN 12&up: 1. Ashlee Lotts; 2. Summer Solovitch; 3. Gabrielle Stead; 4. Allison Aldrich; 5. Emily Young
YOUTH 16-24: 1. Taylor Barnett; 2. Garrett Black; 3. Hunter Harbin; 4. Jesse Litzenberger; 5. Austin Rue
YOUTH 12-15: 1. Perry Warren; 2. Colton Eigenmann; 3. Alex Ransom; 4. Christopher Fortier; 5. Dennis Mullen
65cc OPEN 6-11: 1. Jack Kinney; 3. Aspen Boothby; 3. Rosue Hernandez; 4. Donald Smallwood Jr; 5. Christopher Achatz
Plus 30: 1. Jason Waters; 2. Cole Studstill; 3. Bobby Brady; 4. Clay Hill; 5. Matthew Johnson
Plus 40: 1. Lee Tatham; 2. Steve Dumond; 3. Sal Ginabreda; 4. Donald Lowe; 5. Jeff Grabow
125cc (2 STROKE ONLY): 1. Christopher Fortier; 2. Jonathan Baker; 3. Colton Eigenmann; 4. Perry Warren; 5. Dennis Mullen
250cc (2STROKE ONLY): 1. Tanner Hughes; 2. Taylor Vanbeek; 3.Nathan Wright
JR MINI 9-13 85cc: 1. Taylor Snow; 2. Trevor Mason; 3. Tanner Powell; 4. Trent Payne; 5. Seth Whiddon
50cc 7-9: 1. Jayden Calhoun; 2. Thor Powell; 3. Braxton Levi; 4. Sergio Baldivieso
50cc BEG: 1. Brennon Harrison; 2. Jonathan Getz Jr.; 3. Christopher Moody
Plus 35: 1. Lee Tatham; 2. Sal Ginabreda; 3. George Masden Iii; 4. Buddy Martin; 5. Mitchell Holstein
Plus 45: 1. Steve Dumond; 2. Johnathan Getz Sr.; 3. Mark Shields; 4. Rob Kernaghan; 5. Jeff Grabow
250A: 1. Justin Starling
450A: 1. Jordan Hoover; 2. Michael Clarke; 3. Johnny Wasco; 4. Phillip Harris; 5. Cole Robbins
450B: 1. Austin Rue; 2. Logan Murphy; 3. Taylor Barnett; 4. Zack Crosby; 5. Bryce Mauldin
450C: 1. Justin Sharp Maloy; 2. Thorne Pavish; 3. Mason Middlebrook; 4. Adam Aderhold; 5. Morgan Salber
450 BEG: 1. Nick Pandolfi; 2. Justin Cate; 3. Rick Thames; 4. Brenton Hollingsworth; 5. Chris Hankins
50cc OPEN 4-9: 1. Jayden Calhoun; 2. Sergio Baldivieso; 3. Braxton Levi; 4. Christopher Moody
85cc 12-14: 1. Chris Post Jr. 2. Trevor Mason; 3. Seth Whiddon; 4. William Campbell
85cc 9-11: 1. Trent Payne; 2. Aspen Boothby
250B: 1. Taylor Barnett; 2. Jonathan Baker; 3. Garrett Black; 4. Tanner Hughes; 5. Bryce Mauldin
Plus 25: 1. Zack Crosby; 2. Jason Waters; 3.Cole Studstill; 4. Brandon Detwiler; 5. Matthew Johnson
250 BEG: 1. Cade Salber; 2. Ricky Thames; 3. Emily Young; 4. Nick Pandolfi
250C: 1. Mitchell Darby; 2. Throne Pavish; 3. Justin Sharp Maloy; 4. Adam Aderhold; 5. Perry Warren
65cc 6-9: 1. Aspen Boothby; 2.Rosue Hernandez; 3. Donald Smallwood Jr. ; 4. Christopher Achatz
65cc BEG: 1. Jacob Lundeen
85cc BEG: 1. Randy Fortier; 2. Aden Karpluk; 3. Steven Goldi; 4. Wyatt Perry; 5.Chance Reighard
GIRLS 9-15: 1. Taylor Snow
SUPER MINI 10-15: 1. Chris Post Jr. 2. Garret Woizik
DASH FOR CASH: 1. Michael Clarke; 2. Scott Spinney; 3. Zackary Lundy; 4. Jordan Hoover
Click the following links to visit the FLMN GALLERY or the Florida MOTO News Facebook page to see the photo coverage of this race!
---
Something to Say? Something to Sell?
Purchase an AD, and put it HERE!
Contact flmotonews@yahoo.com or call 386-878-9818 for more information.