---

2016 FL/GA Spring Championship Race at Pax Trax Mx Park!
FLMN News Report
2016 Motocross Racing
Photos, Video, and Article by Tracy Beck
Bunnell, FL May 15, 2016
The 2016 FL/GA Spring Championship & Florida Series Combined racing may have taken a weekend off, but many riders continued on to Pax Trax Mx Park to race round #5 of the FL/GA Spring Championship. The Pax Trax race brought in over 200 entries, keeping the great racing action going, as the battle continues for the 2016 FL/GA Spring Championship win! Racing started out on the Pax Trax Pee Wee Track, where the 50cc racers put on quite a show for spectators. The young riders showed great enthusiasm, and gave it their all from the gate drop to the checkers! Despite a few crashes, all the riders were able to finish their races, and all seemed to have a great time racing. Once the PeeWee Track first motos had concluded, racing headed over to the Main Track.
Racing on the Main Track started off with the Plus 30 and 450 C classes. James Nagy (SUZ #11) would take the win in the first moto of the Plus 30 class, but a second moto win by Joel Gregor (KTM #341) would give Gregor the overall win. Will Ballard (YAM #24) was the winner in the 450 C class. Next, the 65cc Beginner class took to the Main Track, with young Jason Vlossak (KTM #175) showing his speed, and charging hard to the checkers. Vlossak would take the win, followed by the KTM #422 of Frankie Notarino and the KAW #595 of Kacey Sheehan.
The day would be full of great moto battles, making it quite difficult to predict would end up with the overall win in many of the classes. The Vet C/Novice class, for example, saw vastly different results from one moto to the next. Every rider in the class saw a different finish position in each moto! In the end, it was the KTM #585 of Nate Ingram who would go home with the win, giving him his fifth straight win in the series. Kevin Hahn (KTM #413) and Joshua Rosa Sr. (KTM #113) would finish second and third respectively. The intense racing action is sure to continue in this class! Be sure to keep a look out for more racing coverage of the continuing 2016 FL/GA Spring Championship and Florida Series Combined races on www.floridamotonews.com!
Florida MOTO News NEXT STOP: Dade City Motocross on May 22, 2016
Check out ALL the photos, video, and TOP 5 results from the Pax Trax race below. For full race/series results from the 2016 FL/GA Spring Championship, and more information about the FGSC series, visit flgaracing.com.
ALL photos on the Florida MOTO News website are FREE for you to download. Enjoy!
To browse through the photos one at a time, use the photo slider below.
Right Click on each photo to save the FULL SIZE version to your computer or device.
2016 FL/GA Spring Championship Race - Pax Trax Mx Park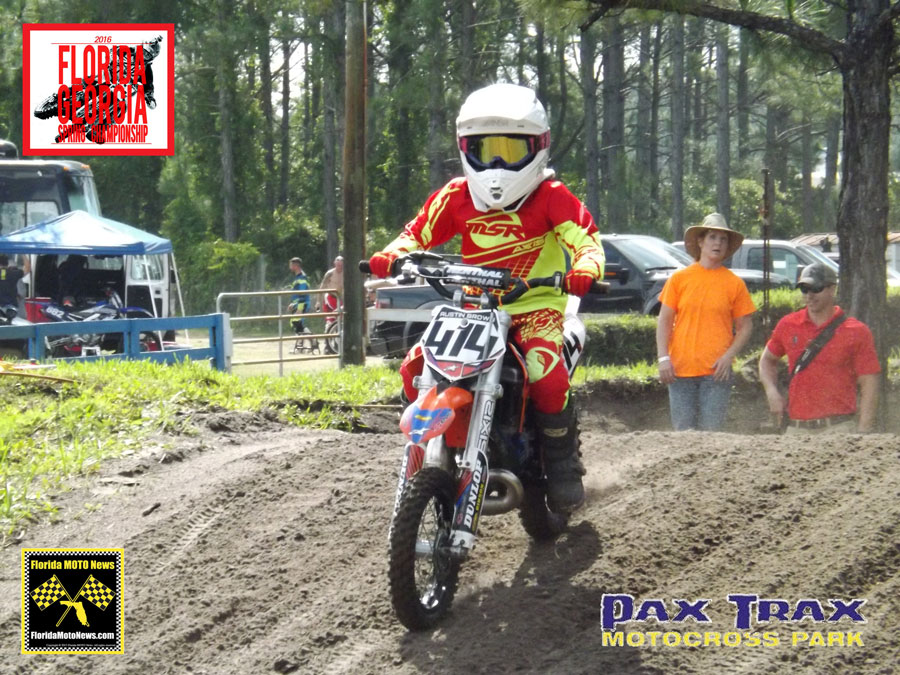 RESULTS (TOP 5):
Plus 30: 1. Joel Gregor; 2. James Nagy; 3. Joshua Hudson; 4. Brandon Sharff; 5. Carl Rutledge
450 C: 1. Will Ballard; 2. Hunter Freeman; 3. Tristan Ingram; 4. Derek Hopkins; 5. Hunter Blackledge
65cc BEG: 1. Jason Vlossak; 2. Frankie Notarino; 3. Kacey Sheehen; 4. Jackson Jones; 5. Ashton Skowvonski
Plus 25: 1. Brendan Goldstein; 2. Michael Starace
16-24: 1. Hunter Hawkins
YOUTH (12-15) 105-250F: 1. Hunter Blackledge; 2. Chris Post; 3. Chris Cassano; 4. Hayden Hawkins; 5. Parker Earl
2 STROKE OPEN: 1. Chance Reighard
OPEN AM NO A: 1. Perry Warren
65cc OPEN (6-11): 1. Ryder Gwynn; 2. Chase Matott; 3. Colin Dellarco; 4. Michael Derico; 5. BrockKreimeier
SUPER MINI (10-15): 1. Chris Post; 2. Brandon Coates; 3. Trent Payne; 4. Josh Rosa
250 C: 1. Derek Hopkins; 2. Will Ballard; 3. Tristan Ingram; 4. Jordan Potts; 5. Darek Pixton
WOMEN 14+: 1. Tracy Beck; 2. Breonna Walker
250 BEG/D: 1. Cj Rosa; 2. Adam Lewis; 3. Austin Tibbetts; 4. William Hughes; 5. Nicholas Wood
Plus 50: 1. Barry Mccarty; 2. Daryl Thiel; 3. Tom Magee
Plus 55: 1. Jay Estes
450 A: 1. Tristan Lane; 2. Jake Scott; 3. Brendan Goldstein; 4. Mikey Nuzzo; 5. Michael Starace
450 B: 1. Perry Warren; 2. Hunter Hawkins; 3. Ryan Nolan; 4. Joshua Hudson
85cc (9-11): 1. Josh Clark; 2. Jared Cannon; 3. Ryder Gwynn; 4. Trevor Law; 5. Greyson Jackson
85cc (12-14): 1. Brandon Coates; 2. Trent Payne; 3. Brandon Bootz; 4. Breonna Walker; 5. Mason Hronec
Plus 40: 1. Steve Nagy; 2. Matt Oullis; 3. Joel Gregor; 4. Daryl Thiel; 5. Nate Ingram
450 BEG/D: 1. Ryan Skidmore; 2. Chris Camp; 3. Cj Rosa
85cc BEG/D: 1. Brock Kreimeier; 2. Mason Hronec; 3. Larry Mcgough; 4. Brandon Bootz; 5. Breonna Walker
VET C/NOVICE: 1. Nate Ingram; 2. Kevin Hahn; 3. Joshua Rosa; 4. Bryon Sheehan; 5. John M. Frazzini
65cc (6-9): 1. Chase Matott; 2. Jason Vlossak; 3. Kacey Sheehan
65cc (10-11): 1. Ryder Gwynn; 2. Brock Kreimeier; 3. Michael Derico
250 B: 1. Perry Warren
250 A: 1. Jake Scott; 2. Mikey Nuzzo; 3. Dj Macfarlane
Plus 35: 1. Steve Nagy; 2. Joel Gregor; 3. Matt Oullis; 4. Brandon Sharff; 5. Robert Butts
Plus 45: 1. Barry Mccarty; 2. Tom Magee; 3. Daryl Thiel; 4. James Nagy
D-C UNLIMITED: 1. Darek Pixton; 2. Stephen Swartz; 3. Jordan Potts; 4. Chris Cassano; 5. Bailey Thomas
85 JUNIOR MINI (9-13): 1. Josh Clark; 2. Jared Cannon; 3. Trevor Law; 4. Brandon Coates; 5. Greyson Jackson
OPEN MONEY: 1. Tristan Lane; 2. Dj Macfarlane
50cc (4-6): 1. Colton Derico; 2. Hayden Zeedyn; 3. Austin Brown; 4. Jake Dunham; 5. Lainey Sheehan
50cc OPEN (4-9): 1. Chris "bubba" Moody; 2. Calen Myers; 3. Caiden Frazzini; 4. Max Newman; 5. Colton Derico
50cc (7-9): 1. Calen Myers; 2. Chris "bubba" Moody; 3. Max Newman; 4. Anthony Tavolacci
50cc BEG: 1. Austin Brown; 2. Jake Dunham; 3. Parker Murphy; 4. Lainey Sheehan

SEE YA AT THE RACES!
---


FLORIDA MOTO NEWS