---

Cross Roads Motoplex Now Offers Arenacross!
FLMN News Report
2016 Racing
Story by Tracy Beck
Jasper, FL February 7, 2016
Florida MOTO News made the trip to Jasper, Florida this past weekend to visit Cross Roads Motoplex. FLMN had been hearing lots from Florida riders about the new Cross Roads Arenacross track, and just had to go check it out. As if kart racing, motocross, and a RC car track wasn't enough, NOW they've got arenacross!
Florida's weather accommodates year round moto enjoyment, so arenacross has been a sport usually only experienced by those willing to travel out of state for the opportunity to ride and race at arenacross events. Last year, the AMA Amsoil Arenacross finally decided to hold an arenacross race in Tampa, FL. Florida Motocross riders have been talking about it ever since. Clearly, Florida's riders want arenacross! Thanks to the folks at Cross Roads Motoplex, they have it! Riders can now enjoy practicing and racing arenacross right in Florida. No need any longer to wait all year for ONE arenacross event to come to town. Cross Roads Arenacross track is open for practice regularly, and already has 20 arenacross races scheduled for 2016. Arenacross races are typically held on Saturday nights, and followed by a Sunday of motocross racing on the Cross Roads Motocross track.
Check out the FLMN video of riders at this this past weekends arenacross practice, and the 2016 Cross Roads Racing Schedule. For more information about Cross Roads Motoplex, visit them on Facebook at: https://www.facebook.com/CrossroadsMotocross.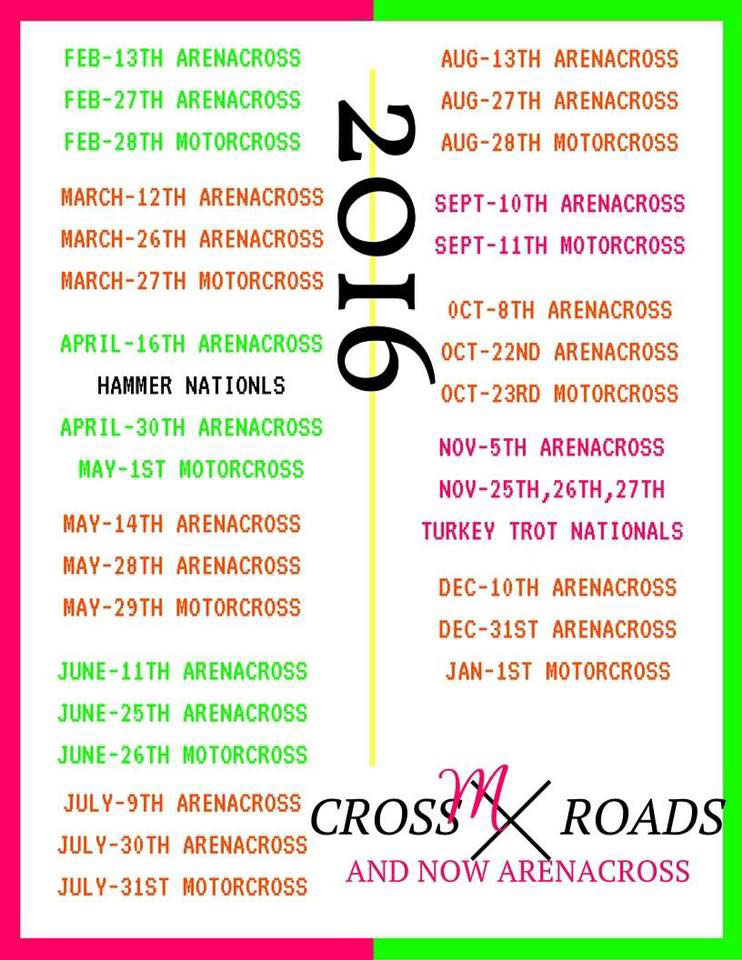 SEE YA AT THE RACES!
---


FLORIDA MOTO NEWS