---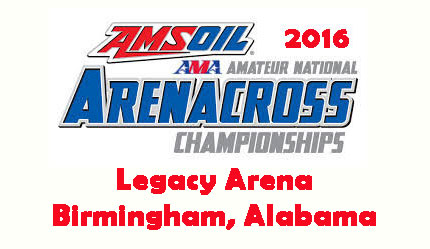 Florida MXers Race AX in Alabama
FLMN News Report
2016 Racing
Story by Tracy Beck
Birmingham, AL February 13-14, 2016
Florida MOTO News traveled to Birmingham, Alabama to do a little racing, and watch other Florida MXers racing the 2016 AMA Amateur Arenacross. The Alabama race at Legacy Arena is part of the AMA's Amateur National Arenacross Championships (ANAC). Riders competing at this event will earn points in the SOUTH region, in attempt to be among the top four riders from each region who will be eligible to race for the national title in Las Vegas, Nevada on May 6-8, 2016.
FLMN saw quite a few Florida riders at the event, and managed to catch a few of them on film, in between all the racing excitement! Many Florida riders will likely attend the coming SOUTH region round at the Amalie Arena in Tampa, Florida on February 20-21, 2016. Look for more ANAC racing action on Florida MOTO News soon!

SEE YA AT THE RACES!
---


FLORIDA MOTO NEWS

Website by:

>>Fast Forward
Web Productions.® Copyright © 2013

Florida Moto News

. All rights reserved.